We are proud to announce that Skinive software received ISO-13485 Quality Management System (QMS *) Certificate (integrated with IEC 62304 and ISO 14971) for medical devices and software in December 2020.
Safety and quality are non-negotiable in medical devices, which is why our company's management system is ISO 13485 certified. ISO 13485 standard is the progressive design, configuration, manufacture, installation and sale of medical devices that are safe for their intended use.
This success is the result of a continuous striving to improve our products and services and could not have been achieved without close collaboration within the company.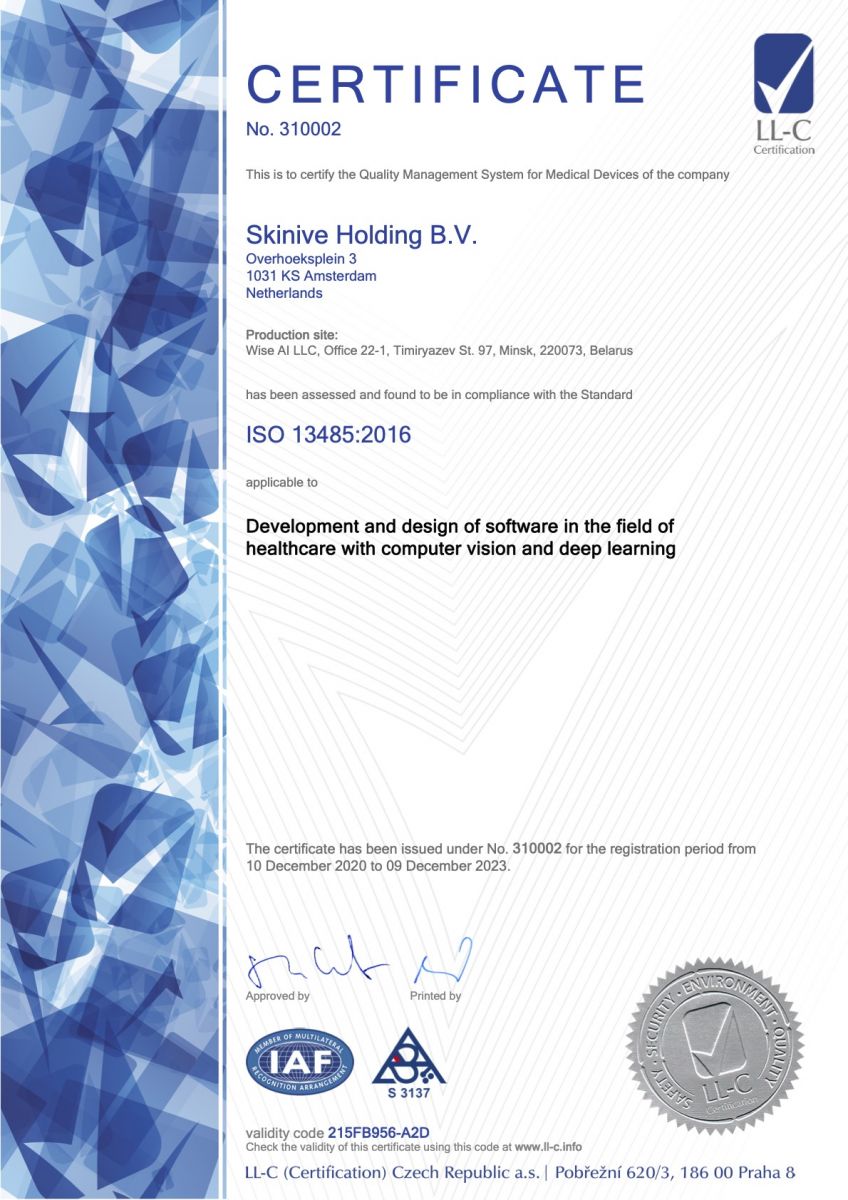 We are looking forward to new opportunities and projects with our old and new partners and clients!
These documents allowed us to obtain an official assessment of the risk class of our product from the European Competent Authority: I under the MDD Directive and IIa under the MDR Regulation. The implementation of ISO 13485 makes it possible to register our mobile application as a medical device in the European Union and receive the CE marking. In the process of developing the QMS, we have developed a user manual taking into account the requirements of the MHRA recommendation, MDR and mobile application labeling.
The ISO 13485 concept is applicable to companies that design, manufacture, and service medical devices. This standard specifies the requirements for a quality management system * that can be used by an organization in performing all stages of the life cycle of a medical device.
The process of implementing the Quality Management System is rather long and complicated, but it carries a number of advantages:
expansion of the sales market, since the Standard makes it possible to use our mobile application in all European countries, as well as in a number of other countries;
increasing the level of trust from customers;
increasing image and competitiveness;
the opportunity to participate in public procurement and obtain lucrative contracts.
We applied a clear system of work for each department of our company to allow ourselves to provide quality services to the consumer.
"Considering that we develop software in the field of medicine, it is very important for us to build processes for the further development of the product in accordance with the regulatory requirements of the European Union and the United States. The QMS allows you to track all current regulatory documents through the Regulatory support process. " – commented Artem Lyan, Skinive co-founder and CTO.
"The implementation of ISO 13485: 2016 is a key milestone on our journey towards full compliance with global health regulations. We look forward to supporting the global community of dermatologists and skin health professionals with Skinive" – commented Kirill Atstarov, Skinive CEO and Co-founder.
The Skinive quality review was carried out by a team of experts from XportKat, an international consulting company, the QMS audit is planned by a certification body authority based in Czech Republic, Prague.
To learn more about our solutions and benefits, schedule a video call with our experts
https://calendly.com/skinive/
* QMS (quality management system) is a set of processes within an organization aimed at identifying, measuring, controlling, and improving core activities in accordance with customer requirements and regulatory requirements applicable to your organization's medical devices and related services. Most countries have also recognized international standards published by committees such as the International Organization for Standardization (ISO) as a core requirement for compliance.