A bit of a memory of attending MEDICA, the leading international healthcare solutions trade fair. Our company Skinive, which creates applications to track skin conditions using artificial intelligence, had the great pleasure of representing ourselves and other organisations from the Dutch life sciences and healthcare sector at the Dutch pavilion.
On Tuesday, a large reception was held where more than 80 entrepreneurs from the Dutch life science and health sector visited the Dutch pavilion. We also focused on networking with international stakeholders in the field of digital health.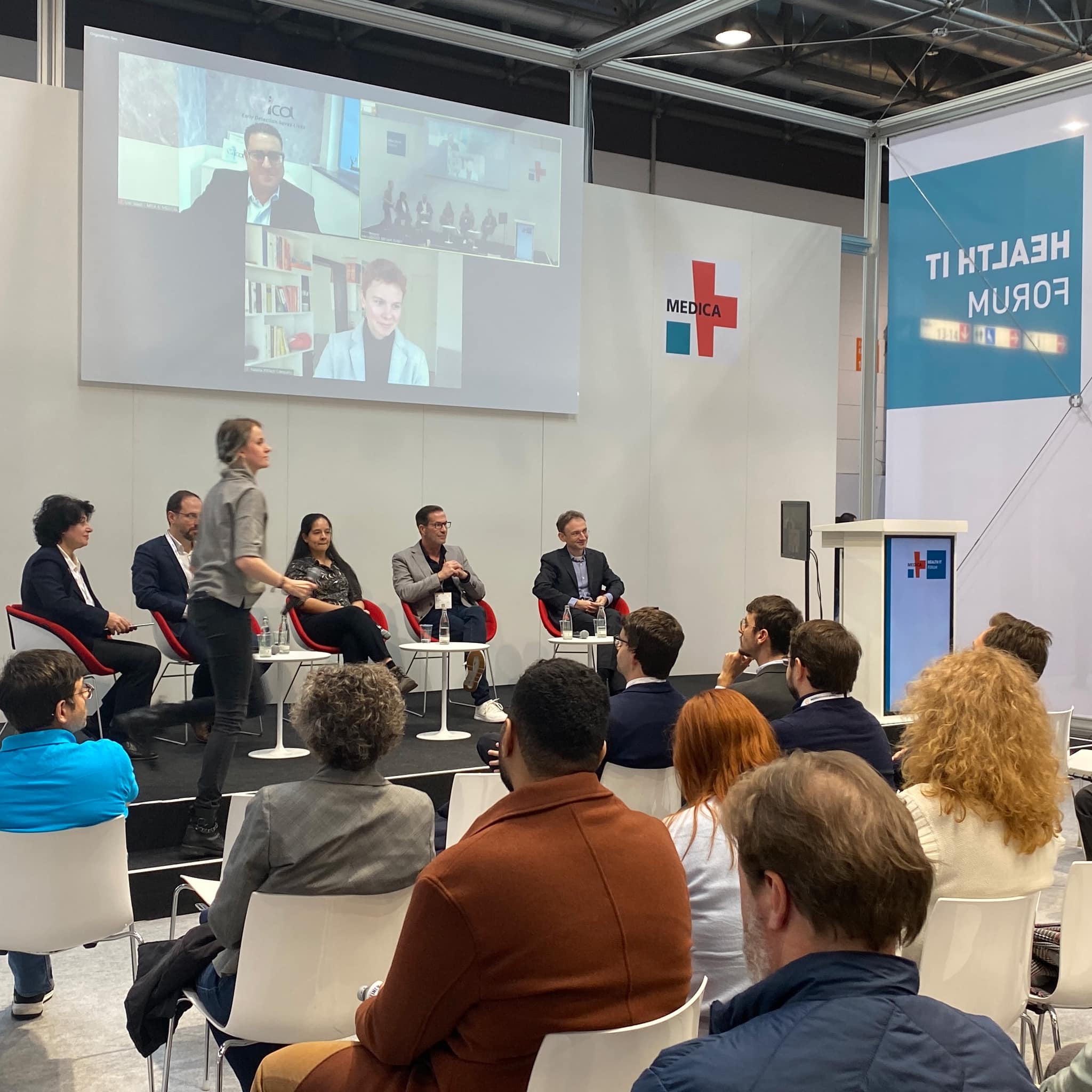 Kirill Sokol, CEO of Skinive, shared his impressions of MEDICA:
"I was reminded of my first visit to MEDICA seven years ago when I saw recent posts on social media. Then I was amazed at the scale of the exhibition, the 17 huge pavilions, which it was impossible even to pass quickly in one day. With experience comes understanding, and now I know which pavilions are important for finding partners and which are not. Here are some other changes I have noticed:

Whereas digital health projects used to be concentrated in one pavilion, now digitalisation is increasingly penetrating different areas of healthcare and spreading across all the pavilions at the fair.
Seven years ago, telemedicine services, smart medical devices and wearable health monitors were popular, but now the focus is on artificial intelligence.
AI in medical practice has become a matter of course, and the questions have shifted from "Why do we need it?" to "What is the cost and clinical effectiveness of your AI?"
The number of medical companies from the US has decreased slightly, while the number of companies from China, Taiwan and Korea has increased significantly."
Industry Collaborations and Networking:
Beyond the exciting innovations on display, the Medica Trade Fair '22 provided an invaluable opportunity for networking and forging collaborations. We connected with fellow industry professionals, potential partners, and experts in the field. These interactions fostered meaningful discussions, sparking ideas for potential future advancements and collaborations within the dermatological community.
As we bid farewell to the Medica Trade Fair '22, we carry with us a sense of inspiration and determination to push the boundaries of dermatology further. Our experience at the event has reaffirmed Skinive's commitment to leveraging technology to enhance skin health awareness, promote early detection, and empower both patients and healthcare providers.
We are grateful for the opportunity to be a part of such a remarkable event and look forward to sharing the knowledge and insights gained from the Medica Trade Fair '22 with our valued users and partners. Stay tuned as we continue our journey towards a future where AI-driven dermatological solutions revolutionize skin health management, making it accessible to all.
We would like to thank the organisers of the Dutch delegation: ROM Utrecht Region, Amsterdam Trade & Innovate, Smart Health Amsterdam and Health Valley Netherlands for making our participation in MEDICA possible. It was a great opportunity not only to meet Dutch exhibitors at the Dutch pavilion but also to meet new innovative entrepreneurs from Europe and beyond. I hope that these contacts will become our reliable partners in the near future!